Back to The Wheatland Standard
Bright Lights, Big Ideas: NECA Convention & Trade Show Recap
The National Electrical Contractors Association (NECA) Convention serves as a unique venue for us to work side by side with our distributor partners and to promote our products directly to end users. The NECA staff did a great job and the new NECA 2012 Las Vegas app was fantastic – it provided a quick and easy way to view the convention layout, schedule our agenda and access handouts via our smartphones.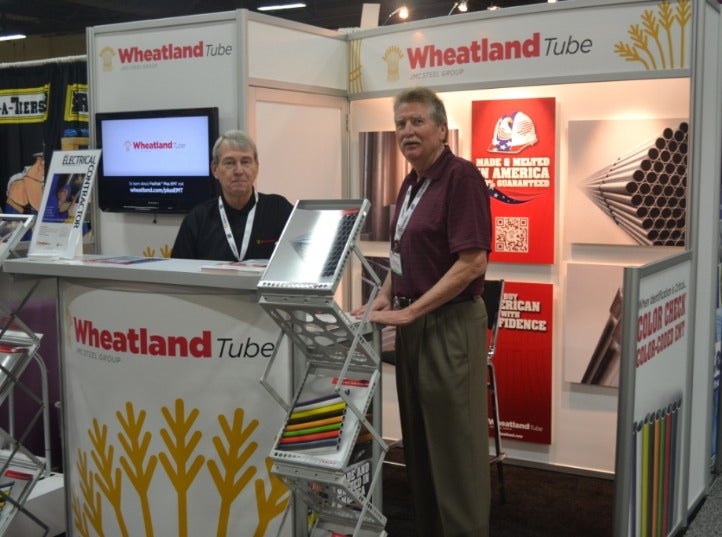 The Wheatland booth was manned by Marty Brett, Mike Kreger, our new Southwest Regional Manager, and me. We demonstrated the difference in friction reduction between or our new FasTrak Plus EMT ID coating and our old ID coating, displayed samples of our Color Check EMT, and showed our segment on Fox Business Network's "Manufacturing Marvels," a series that showcases leading American manufacturers.
I learned a lot. High interest around Color Check EMT taught me that more project owners are specifying colors for systems. Project owners told me that savings, quality of the coating and convenience are the main reasons for choosing factory applied versus on the job coatings. We had visitors from coast to coast, Hawaii, and Peru.  It was very exciting to hear that Wheatland's electrical conduit and EMT products are being specified and requested by contractors in Peru.
The numbers I heard regarding this year's show seem to reflect the activity we saw at our booth.  Attendance was reported to be over 3,700 registered attendees, not counting staff and exhibitor personnel.  In the past more than 60% of attendees were owners, top executives and supervisors — this year appears to have followed that mix.
Well, if you missed us at NECA this year, mark your calendar for October 13 – 15, 2013 at the Walter E. Washington Convention Center in Washington, DC.  We will be in booth 551, so stop by!
Tags: Electrical Contractors, ELectrical Distributors, National Electrical Code, National Electrical Contractors Association, NECA