Back to The Wheatland Standard
Wheatland Tube's 2014 NECA Recap
Wheatland Tube was one of the several hundred companies to display their latest products at this years' event. With a manufacturing facility and corporate headquarters in Chicago, we proudly displayed our U.S. produced steel conduit, EMT and electrical nipple, elbow and coupling lines at the 2014 NECA Trade Show that took place right here in Chicago from September 28th through the 30th.
In addition to our participation as a sponsor and exhibitor, I was given the opportunity to lead a workshop; Steel Conduit and EMT: Understanding Corrosion and Raceway Restoration. My fifty minute seminar offered a review of UL® and NEC® requirements for corrosion protection, as well as an evaluation of storm- and water-damaged steel conduit and electrical metallic tubing. I also reviewed the process of restoring usable conduit and EMT to be used for service, including the guidelines that must be followed, cleaning agents to employ and best practices for the restoration of raceways. The workshop was offered in an effort to provide some guidance to contractors and inspectors who are dealing with these issues more and more.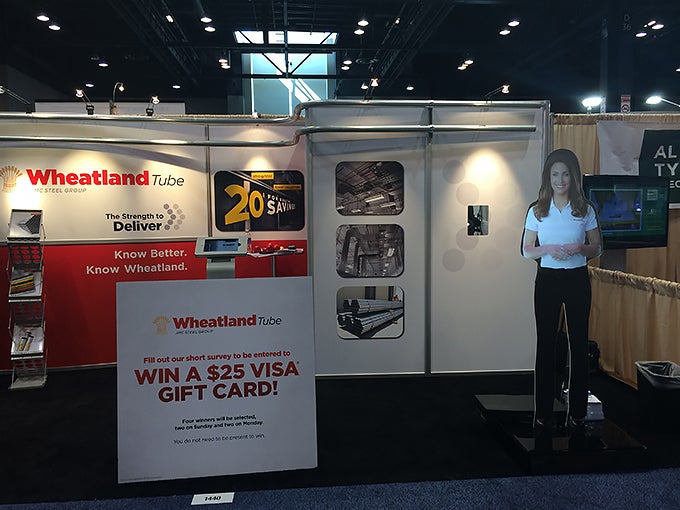 Wheatland Tube's 2014 NECA Focus
Myself, along with Scott Collins, Dan Binkowski, Michael Strawn, and Philip Racine from our Chicago sales team, are very excited about the awareness and exposure that NECA created for our conduit and EMT product lines. While we offer many different products, our main focus this year was on our 20′ EMT and conduit, in addition to our Color Check™ Color-Coded EMT. After talking with current and potential prospects, we are confident about the buzz we created, and expect to see growth within these product lines. It's always a great venue for me to catch up with contractors, inspectors and NECA staff that I do not often see.
If you were unable to attend the convention, here is a breakdown of the products we focused on during the show.
Wheatland Tube's 20′ conduit:
Offers faster and straighter runs
Cuts production costs by 50%
Can be used for big-box retail, airport, data center and other projects that require large volumes of conduit and fittings
Is 100% Made & Melted in America
Learn how Wheatland Tube's 20′ EMT helped the T5 Data Center decrease installation time by more than 50%.
Wheatland Tube's Color Check™ Color-Coded EMT:
Comes in 9 colors including blue, orange, red, green, silver, black, white, yellow and purple
Offers easy identification of critical circuits
Is available in Trade sizes ½' – 4″
Comes in lengths of 10′ and 20′
In terms of our Color Check™ products, it was interesting to see fittings and box manufacturers offering products that match the colors we offer. So, in some installations a contractor may install a system with all components that have a factory applied coating.
Despite the havoc and unexpected delays caused by the fire at the FAA radar center in Aurora, Illinois – grounding more than 2,000 flights – the 2014 NECA convention was a success. Not only were we able to connect with an ample amount of our current customers, we were also able to chat with and educate some potential customers about Wheatland Tube, our products, and our commitment to delivering products that contribute to our customers' success.