Back to The Wheatland Standard
Twitter Chat Brings Light to Electrical Industry
Just a few months ago, top leaders in the industry gathered at the National Association of Electrical Distributors National Meeting, giving us the opportunity to meet with distributor partners. We had over 25 of these meetings to harvest our customers' intelligence and insights to become a more effective part of their success. Ultimately, we were able to ask the tough questions—about ourselves and where we can improve. I left with a sense of accomplishment knowing that I had learned a lot about our customers' needs and what we need to do to be a better partner.
Yesterday, the Electrical Distributor Magazine and the NAED continued to push the envelope by hosting a live Twitter chat around the critical role of electrical distributors, their strengths and values as well as the challenges and opportunities that lie ahead.
With a handful of industry folks ready to dive in, the conversation took off with a bold statement, "Manufacturers must get access to market."
Ouch.
While we all should recognize there are more options than ever for buying and selling electrical supplies, I believe more is involved than personal relationships and financial risk. Distributors have a real opportunity to drive new products and plenty of options. Here's a snapshot of the conversation that ensued: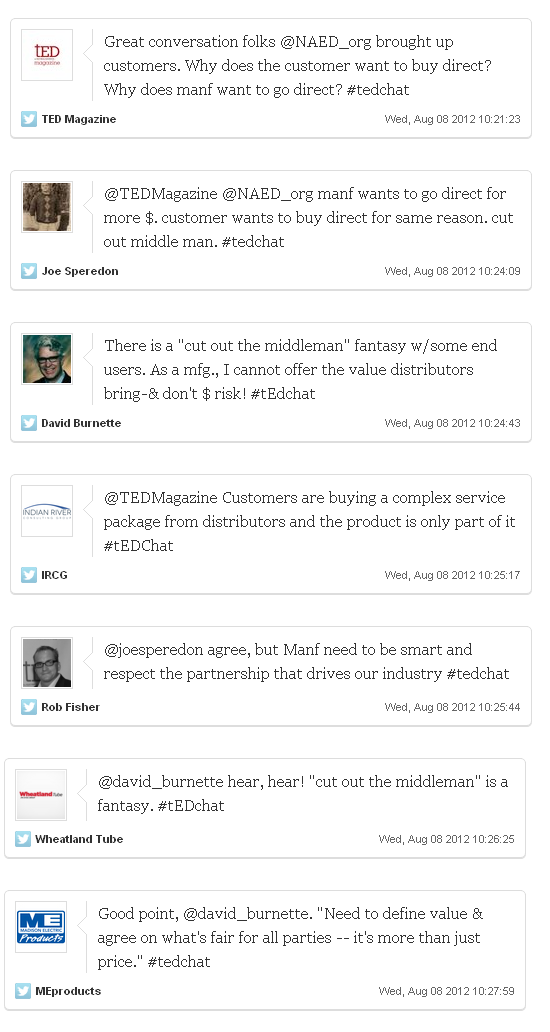 Bottom line—distributors are critical for Wheatland Tube. I cannot tell you how many times over the years I have had a rep, distributor or regional manager tell me that because we handled a problem quickly and fairly, we solidified our position with a distributor or contractor, rather than strained that relationship. In my experience, the sophisticated end user recognizes the value of distribution. Even when big manufactures try to go direct, they usually came back. In the end, all markets are different and all products are different, so we all must analyze the best path to reach our end user.
I was also impressed that tED chat participants stressed the importance of going digital. Here are some highlights: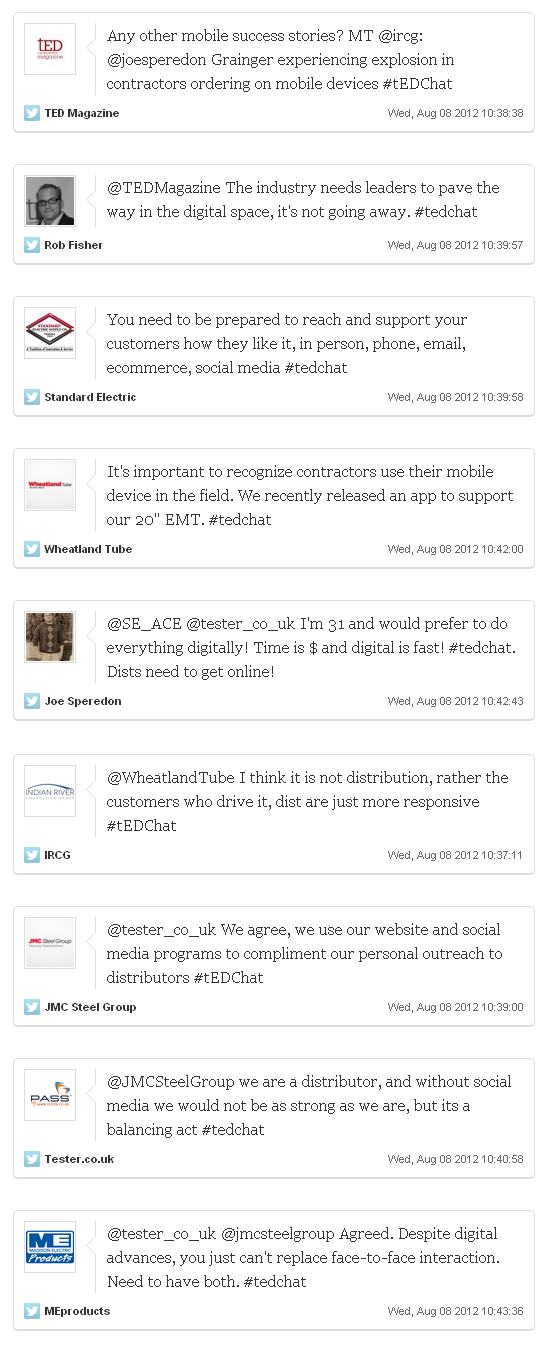 We know our customers are not only shifting the way in which they search for product specifications and code requirements, but also the way they conduct business. Adapting to these changes, Wheatland Tube moved rapidly to support this shift through social media and our blogs. I'm still amazed that we're participating in live twitter chats. But we need to accept that the next generation relies on these tools to gather information – EMBRACE THE NEW TECHNOLOGY OR WITHER!
tED Magazine set out to foster an industry debate around the role of electrical distributors versus direct-selling methods. I think that by continuing to have these honest discussions, we can deliver a level of service that matches anything else the industry has to offer.  I'm looking forward to the next tED chat and hope you can join me (@david_burnette) and @WheatlandTube.