Back to The Wheatland Standard
5 Essential Elements for Exhibiting at Any Trade Show
During a time when things have quickly become digitally driven, many companies have turned to a digital approach to sales and marketing. And while digital assets such as your website, blog and email marketing have the ability to generate leads and close those leads into customers, there's something to be said about sticking with more "traditional" means of marketing.
For some industries, sticking to digital might work. However, industries that rely heavily on personal relationships, brand loyalty and product knowledge in an effort to increase sales, customers and market share, elements of traditional marketing is vital.
With so many avenues to choose from, it's imperative to find the best channels to produce a measureable ROI. Sure ads in magazines and trade publications are great, but can you really measure the success of an ad campaign? Beyond ads and billboards, there are certainly other traditional means of marketing and one that continues to be valuable despite the digital takeover are trade shows. According to the Center for Exhibition Industry Research, 99% of exhibitors find unique value delivered by B2B tradeshows which are not provided by other marketing channels.
At Wheatland Tube, we've embraced the digital way of marketing, but we haven't given up on trade shows. Attending several each year has resulted in increased awareness about our brand and its products. It also gives us "face time" with customers, both existing and potential, including distributors, contractors and end users. What's more, these trade shows give us an opportunity to introduce new products and allow attendees (industry professionals) to test and review the products right in front of us, providing invaluable feedback.
Through all of the trade shows we've attended, we've learned a lot; not only about which shows are best for our sales and marketing goals, but also the best ways to approach each show. If you're new to the trade show scene or interested in ramping up your presence, here are five essential elements for exhibiting at any trade show.
1. Choose Your Show(s) Wisely
Trade shows aren't cheap; however, there's a lot of opportunity for ROI (with the right show). To make the most of each show, make sure you research the show to ensure the right audience will be in attendance. Exhibiting at a trade show is all about increasing (or creating) brand awareness and recognition, and connecting with people who would benefit from your product/service: make sure you're attending the right one(s).
If you don't have the budget to attend and exhibit at several trade shows, determine which one(s) will provide the most value. Some ways to do this are to see who attends each show, the number of attendees in past years, and to reach out to industry contacts (which is also a great for networking). Ultimately, the trade shows you choose to attend should support your sales and marketing goals.
2. First Impressions Matter
First impressions matter when it comes to your booth and the people working in your booth. Not only do you want to have an aesthetically pleasing booth, your company reps should be inviting, energetic and knowledgeable. You'll also want to make sure that at a quick glance, attendees know who you are and what you're all about.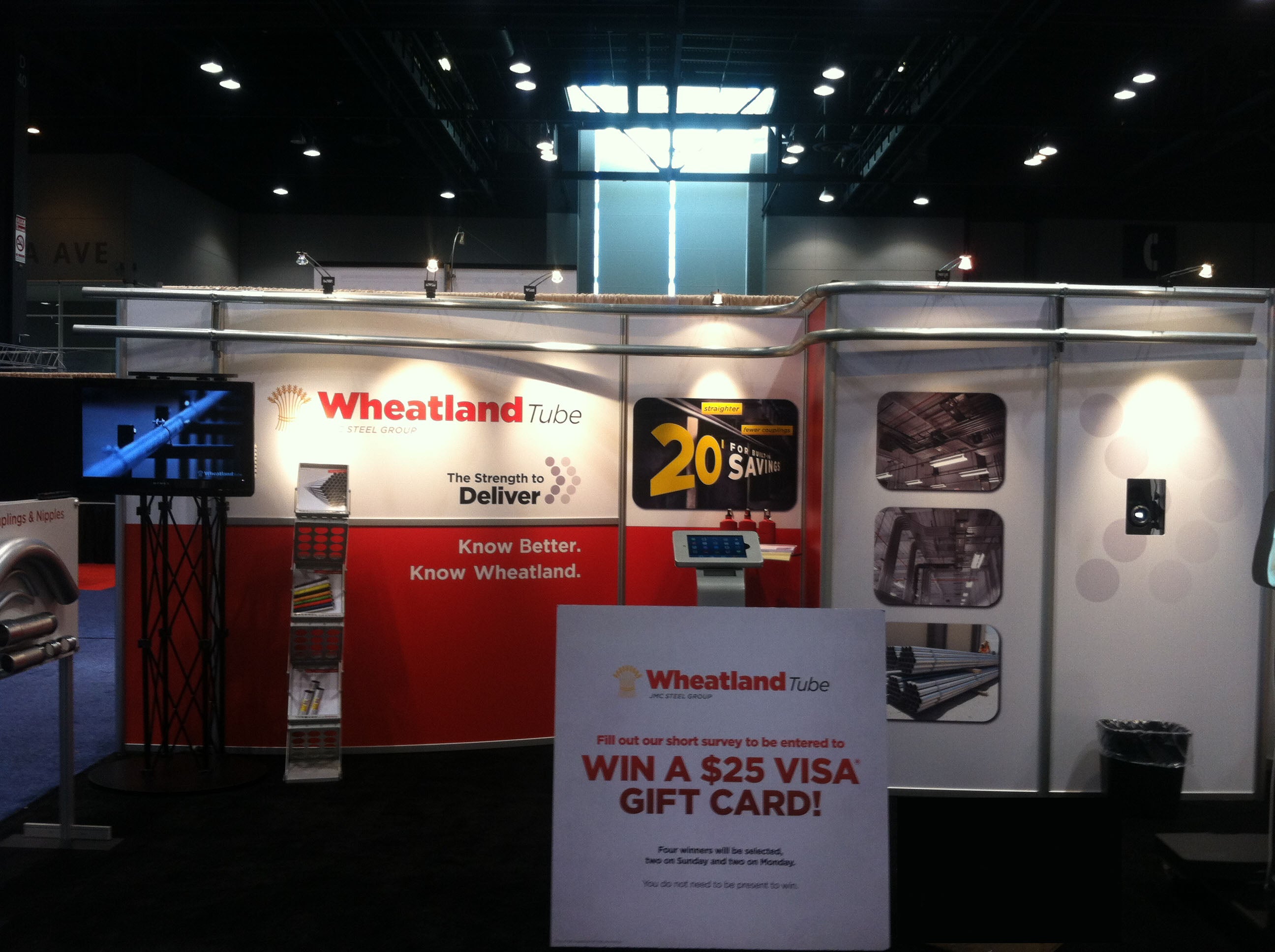 When choosing who will attend the trade show to occupy the booth, think about the audience: who's going to be there? What types of questions will they be asking? Are they more concerned with product demos or technical product information? Will you be able to close any sales while at the trade show?
By anticipating who will be there (look at the list of other exhibitors on the trade show website), you will be able to choose who will attend. A good rule of thumb to follow is to have a technical person (or two) in the booth to answer product specific questions along with one or two sales and/or marketing representatives to support and network with booth visitors. You should also task the sales reps with bringing people into the booth to chat with you technical people. Just be mindful of the booth size. A 10-foot booth will be crowded with more than two or three people.
3. Keep Your Booth Layout Open
Don't even think about putting a long table in the front of the booth, it'll just turn people away and it'll take up too much room. Room you don't have to work with. If you're going to have a table, you might opt for a taller "bar" table that doesn't take up as much room and is more inviting to visitors.
When setting up your booth, make sure it's as inviting as possible. Place product information and literature in an easy to find place – or hold onto it to encourage visitor engagement. And if you're bringing along product samples for demos (which you should), make sure they're the focus of the booth.
All in all, make sure your booth is arranged to encourage and welcome booth's visitors to explore all you have to offer.
4. Engage With Your Visitors
This is one of the most important elements of exhibiting at a trade show. It's not enough to simply have a booth; you have to engage with and talk to all of your booth's visitors. This is great from a networking perspective, as well as getting to know your customers better.
Ask them questions; show them your products; provide them with hands-on product demos; learn about what influences their buying decisions. By taking an interest in your booth's visitors, you'll be able to sort through your qualified leads and follow up accordingly.
People attend trade shows to network and to brush up on the latest products and innovations in the industry. In fact, 52% of distributors go to get technical information or specifications. By engaging with your visitors, you'll make lasting impressions, build relationships and possibly even close a few deals.
5. Follow Up After the Trade Show
After the trade show, make sure you follow up with the people you spoke to, and even those you didn't!
Whether it's a personal email to each person you chatted with (taking notes throughout the show will help with this) or a general mass email thanking people for stopping by your booth, an email will help keep your brand in the minds of existing and potential customers.
Remember, your booth's visitors saw a number of other brands and companies at the trade show; taking the extra step to follow up and remind them about your brand, product offerings and interaction will go a long way.
Tags: Trade Show