Back to The Wheatland Standard
Wheatland Tube Donates to Chicago's 12th Ward 12th Annual Toys for Kids
Not only have our elves, we mean employees, been busy keeping our workshops facilities running this holiday season, they've also managed to take the time to reflect on what the holiday season really means: giving to those in need.
Giving to children and families in need, the employees in our Wheatland plant – on Western Blvd. in Chicago – donated toys to Chicago's 12th Ward 12th Annual Toys for Kids, led by Alderman George Cardenas.
The first toy drive our plant has participated in, the majority of donations came in monetary form the plant employees. After donations were collected, Jennifer Bogs, Wheatland's Environmental Manager, purchased 50 toys for the deserving children of the 12th Ward, who might not have gotten any gifts this year.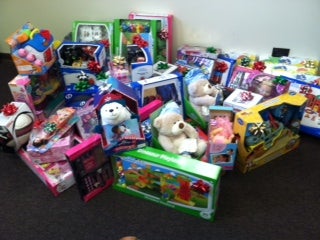 Chicago's 12th Ward 12th Annual Toys for Kids
Today, Monday, December 22, 2014, from 10:00am to 1:00pm, residents of the 12th Ward (Brighton Park, McKinley Park and Little Village) can join Alderman George Cardenas and his staff at McKinley Park to have their picture taken with Santa Clause and receive a gift (while supplies last).
The gifts, which were donated by businesses located in the 12th Ward, will be given to children ages 10 and under. If you would like more information about the event, visit the website's event page here.
According to Jennifer Nunez, the Special Events Coordinator for the 12th Ward, about 1,500 hundred toys were collected from area businesses, allowing them to share some of the donations with other toy drives in the 12th Ward.
From our family to yours, we hope you have a safe and happy holiday season!
Tags: Chicago's 12th Ward, Christmas Giving, Toy Drive, Toys for Kids, Wheatland Employees