Back to The Wheatland Standard
How the Electrical Industry Should Invest in the Next Generation
In the last year or so, our industry has taken a reflective approach—recognizing changing workplace trends and harnessing opportunities to better ourselves and our companies. Conference agendas and industry associations alike remind us that the next generation doesn't "get" electrical distribution; much less why they would want to work in our industry (it certainly isn't as sexy compared to Apple or Google).
And yet, there is no easy way to fill this skills gap. If we want to continue to be the innovative and successful industry we are today, we need recruit from the largest available pool of candidates. And when we do attract qualified candidates, we must then retain them, as the younger generation is quick to change jobs.
This topic, of next generation leadership and attracting a young workforce, was voted on by the Electrical Distributor magazine readers for the second live Twitter chat. As always, it was a lively and honest discussion about the critical need to invest in the changing workforce. It's clear that all participants understand that young men and women look for companies who invest in them and offer new challenges.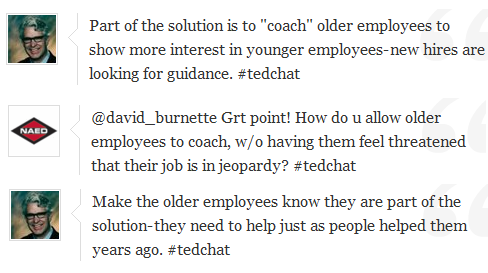 Here are some key takeaways from tED's second twitter chat on how the industry can be better and do more to recruit and retain young talent:
Make sure seasoned employees know they are part of the solution—they need to help just as their mentors helped them many years ago
"Coach" older employees to show more interest in younger employees because new hires look for guidance
Offer opportunities for "special projects" that challenge creativity, give them a chance to stand out
Social media is a great start, but Millenials will disconnect if your business and brand don't back up your message
Product development teams are great to let younger gen's show their out of the box thinking and it takes off the older guys "blinders"
Worry less about how long they will stay and more about performance and keeping them engaged
Finding the right candidate with the necessary skills to perform a specific job is not a unique circumstance to the distribution and manufacturing industries. While at the tail-end of the conversation, self-described "20-something electrical distributor manager" Nick Arb said it best,
"This chat captures the progressive minds of the market, the majority is still timid."
I think it is exceptional that our industry comes together once a month, via social media, to discuss our entry-level workforce challenges.
So, what's the biggest take away? That's easy: the people we hire today will be leading our industry tomorrow.