Back to The Wheatland Standard
FENCETECH/DECKTECH 52nd Annual Convention Rolls Big in Vegas
FENCETECH attracts more than 3,800 industry professionals from across the country which makes this one of the industry's premier events. The show was held at the Mandalay Bay Convention Center where manufacturers, distributors, contractors and specifiers celebrated Fence Industry Week and participated in the FENCETECH show either as an exhibitor or attendee.
Overall the show was very positive. The impact of new AFA management was well received across the board. ASTM meetings were well attended and all goals were met. New tie wire specifications in ASTM F567 and F626 were approved which clarifies and clears up any confusing issues. New items addressed were adding more gate designs, reviewing the current wood standards, drive anchors, temporary fencing, and adding cable to fence for crash ratings, completing a security application for welded wire mesh and cleaning up some in items in the current F1043 framework. Lots of discussions and a lot of ideas were brought to the table.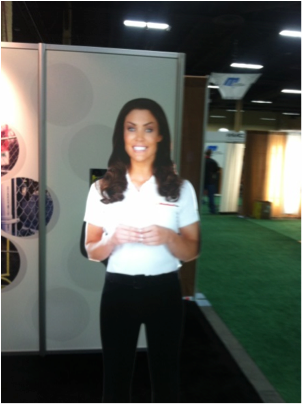 The Chain Link Fence Manufacturers Institute's meeting members were brought up to date on the 2014 economic and production projections and all activities that are taking place within the CLFMI group.
The State of the Industry Panel held Friday morning was presented to a full house. The panel addressed issues from steel, aluminum, PVC profiles and wood future costs and availability, to Obama Care, OSHA, overwhelming contract paperwork requirements, potential labor shortages, industry trend and just about every issue a fence contractor faces.
Now on to the show! The FENCETECH show was very well attended. There was a steady stream of visitors to our booth and throughout the show. One of the main highlights of the show was our virtual friend Meisha, a talking life-like hologram who literally had people stopping in their tracks to take pictures as they listened to her provide information on our fence framework products and our new F1083 high strength 50,000 psi yield Schedule 40 pipe which is 1.6667 times stronger than regular grade Schedule 40 pipe. Many contractors expressed interest in receiving Wheatland Tube's in-line galvanized product by name and also expressed their concerns about the quality of some pre-galvanized products not meeting required specifications and the negative impact that these deficiencies have on our industry.
For more information about our fence framework products, contact your local Sales Representative at 800-343-0124 or visit our website at wheatland.com
KNOW BETTER. KNOW WHEATLAND.