Back to The Wheatland Standard
Is Time Really Money?
You've heard it again and again: time is money. But what does it mean?
"The less time the electrician has to think about what he needs to do, the more work he'll get done," said Gordon Stewart vice president and general manager for Houston-based Joe Swartz Electric Co. [Source]
The good news is that you don't need to be a rocket scientist to trim costs toward winning jobs and improving margins. On most projects, eliminating time wasters requires attentiveness, calculation and approach.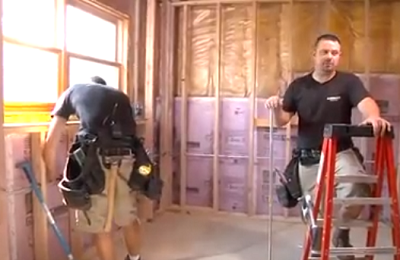 In Denton, Texas, Humphrey & Associates discovered that 20′ length EMT was perfect for high bay lighting installations. Tommy McCormick, Humphrey's project manager and estimator, saw the potential to cut both labor and coupling costs in a variety of installations, reporting that, "You can just fly when you are using it in elevated installations. I'd assign the savings largely to the faster installation times though you also use fewer couplings. The difference is in the speed of the installation." McCormick acknowledged initial issues with transportation logistics needed to be overcome, but emphasized, "Even with those issues, it was still a big savings for me. I did a lot of high bay lighting jobs with it, and it was a tremendous time saver." Read the full case study here.
So just how much do you think you might save? Here are three installation efficiencies that equal major advantages on the job:
Differences in installation time need to be factored into the overall price picture—if you know you can install a product more quickly than you gain more flexibility in your estimates.
A small difference in installation time between one part and another, multiplied by 100s or 1,000s adds up substantially.
A low quality product can cause substantial delays in an installation—if a part doesn't fit, you can be stuck for up to an hour trying to resolve the problem.
Efficiencies have immense ramifications—save an hour on a five-hour job and you can do two jobs in a day instead of one. Save an hour on an eight-hour job and you have time to get a quote out and get a job you might have missed.
These five apps have been found most useful to engineers and contractors, and can ultimately, help you save money:
Read the full list here: The Best Android, iPhone and iPad Apps for Electrical Contractors
To help contractors assess their potential savings on any particular job, we created a calculator available online, the Apple App Store and Google Play, to assist in you in projecting just how many dollars 20′ length EMT could save on your bottom-line. Crunching all the variables including size, run lengths, number of couplings, labor rates, local taxes and even the job's level of complexity, Wheatland's 20′ EMT Savings Calculator gives you a solid idea of exactly how much you might save – and that, in the simplest of math, means how much more you will profit.
What time-saving techniques help your bottom line?
Check out Wheatland Tube's app: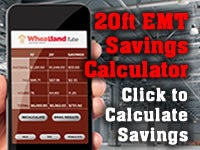 Tags: Construction Apps, Electrical Contractors, Installation, Project savings, Time management