Back to The Wheatland Standard
The Science of Slip: FasTrak Plus Electrical Metallic Tubing
When you first walk into a car dealership and lay your eyes on the vehicle that you've been researching on the web for the past month, what's the first thing you see?  If you're like most people it's the paint job. The glossy, shiny, just waxed looking clearcoat over the rich and vibrant basecoat is the very first that catches your eye.
This is also the first thing that comes to mind when we think of paint; how it adds to the beauty and appearance of the things that are painted. However, the true beauty of that paint isn't just skin deep!  A small army of scientists have spent countless hours in the lab making sure that not only does every layer of the paint job look great, but that it also functions to protects your investment in that new ride from rust, acid rain, sunlight, gravel, and all the other things that Mother Nature (and the 18 wheeler in front of you) can throw at it.
That functional aspect of paint is at the heart of our new FasTrak Plus line of EMT products. All EMT manufacturers paint the inside surface of EMT, but not all coatings are created equal.
At JMC Steel Group, we understand how important it is to our customer to be able to easily push and pull wires through our EMT, and we understand how to deliver that performance.
At a microscopic level, any roughness on the inside of the tube will act like Velcro®, pulling at the surface of the wire passing through the tube and creating drag which makes it harder to move the wire.  We've worked with our suppliers' coatings experts to develop a new coating which not only smoothly covers any roughness, but also builds a molecular layer of lubricant at the surface of the coating.
Think of it as a permanent layer of WD-40® built right into the paint.  As the figure below shows, these two features combine to give a 25% reduction in the amount of force required to pull wires through the EMT.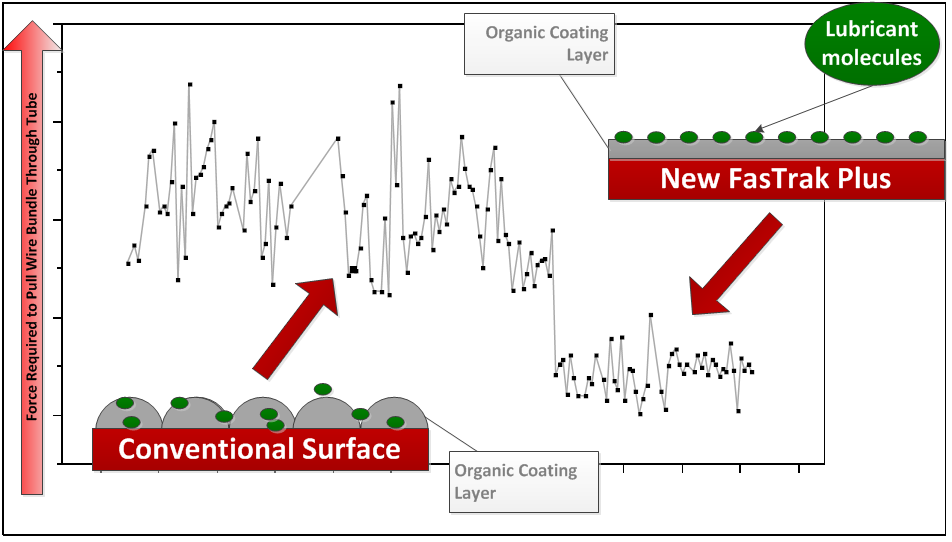 As proud as we are of these developments, we're every bit as committed to pushing the envelope even further to bring our customers the most reliable and easy to use electrical products on the planet.
From new molecular lubricants to advanced application equipment to understanding the chemical interactions between the pipe and conductor surface, we're working each day to better understand the science of slip and how it can help our customers grow.
For us at JMC Steel Group, the future of coatings looks pretty slick.