Back to The Wheatland Standard
Wheatland's Latest Product News Now Available on New iPad® App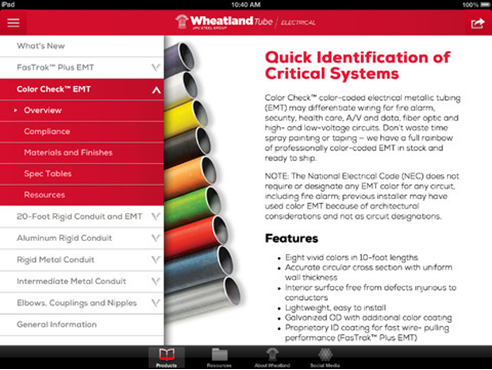 Wheatland Tube recently released our first iPad® application, Wheatland Electric Catalog, for our electrical sales teams, distribution partners and end-user electrical contractors.
Wheatland Electric Catalog is the newest addition to our growing offering of mobile applications that support our business partners and end-user customers. Our first smart phone application, Wheatland Savings Calculator, makes it possible to estimate savings from choosing 20′ electrical metallic tubing (EMT) over traditional 10′ lengths.
The new, user-friendly app features an easy and attractive interface and presentation. Wheatland Electric Catalog allows users to:
View and share the Wheatland electrical product catalog
Access educational videos about Wheatland products
Look up product specifications for Wheatland products
Read code compliance information about Wheatland products
View the entire library of Wheatland electrical brochures and literature
Through Wheatland Electric Catalog, professionals in the electrical contracting and distribution industries can learn about Wheatland's full line of products conveniently, from an iPad®, and can access the latest conduit and elbows, couplings and nipples (EC&N) product information available from Wheatland Tube.
To download the new Wheatland Electric Catalog for the iPad®, please visit the App StoreSM.
Tags: Electric Catalog, iPad® App