Back to The Wheatland Standard
Top Five Reasons to Spec ASTM F1083 schedule 40 pipe on your Next Project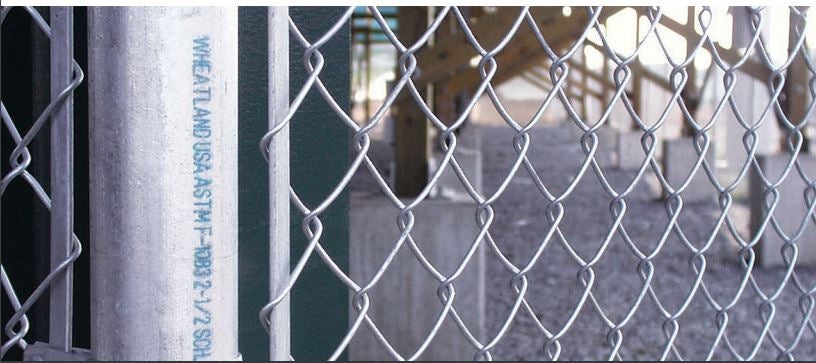 Top Five Reasons to Spec ASTM F1083 schedule 40 pipe on your Next Project
Whether you are a consumer, fence contractor or architect/engineer in the design phase for your industrial, commercial, or security project, there are multiple choices you have when it comes to protecting that structure. One thing is certain – you want to choose a structural fence framework that is going to last in any location for years to come and offer the best protection the project requires. That's where ASTM F1083 Schedule 40 Pipe Fence Framework comes in to meet all the stringent specs for these demanding applications. Let's look at the top five reasons you will want to spec ASTM F1083 schedule 40 pipe on your project.
Proven Performance: ASTM F1083 Schedule 40 pipe traces its roots back to the 1920's as ASTM A120, that is right, almost 100 years of proven performance! In the 1980's ASTM A120 was split into separate standards resulting in ASTM F1083 specifically written for fence structures. In fact, ASTM F1043, "Specification for Strength and Protective Coatings of Steel Industrial Chain Link Fence Framework" list F1083 as Group IA and uses the strength and corrosion performance characteristics of F1083 as the bench mark for other F1043 framework products to qualify to be listed in ASTM F1043.
Zinc Coating: There are two prevalent methods of zinc coatings for fence framework that are specified in commercial/industrial or security applications: in-line galvanization and hot dipped galvanized. F1083 requires Hot Dip Galvanization. With this process, the newly formed pipe is completely submerged in molten zinc with the zinc adhering to the inside and outside surfaces. Hot-Dip Galvanization allows for more of the zinc coating to bond to the steel for a 1.8 oz/ft2 or 2.0 oz/ft2 coating on both the I.D. and the O.D. for a total of 3.6 oz/ft2 or 4.0 oz/ft2. This extra zinc coating, not found on other fence framework items, ensures the schedule 40 fence framework will provide extra corrosion resistance required to protect the site for years to come.
Regular and High Strength Grade: There are two grades of F1083 schedule 40 pipe that can be purchased; ASTM F1083 Regular Grade has a standard yield strength of 30,000 psi and tensile of 48,000 psi. If the fence you are designing calls for a stronger yield, then you will want to spec the High Strength Grade Schedule 40; the minimum yield is 50,000 psi and tensile is 60,000 psi*. When designing your fence framework, it is always wise to select the post outside diameter and post spacing to withstand the required minimum 105 MPH wind load following the American Society of Civil Engineers document, "Minimum Design Loads for Buildings and Other Structures", ASCE/SEI 7-10. The Wheatland website contains an interactive wind load calculator derived from ASCE/SEI 7-10 to assist in this selection.
Diameter, weight per linear foot and wall thickness: Demanding applications call for strict tolerances and compliance to ASTM F1083, which means that schedule 40 pipe framework will stand up to and meet the most stringent of specifications. For example, pipe that is 1.9" and under, the outside diameter (OD) will be + 1/64", – 1/32". Pipe that is larger than 2.375" OD, the outside diameter will not vary more than +/- 1%. Keep in mind that schedule 40 pipe has the thickest wall and weight per foot of any fence pipe and ASTM F1083 includes schedule 80 pipe having even thicker wall and weight requirements.
Product Marking: To make ASTM F1083 easily identifiable in the field and ensure the proper product has been supplied to the owner, fence contractor, distributor, specifier or inspector, Wheatland marks each piece with the manufacturer's name, country of origin, specification number, size, length, heat or run number and the grade designation.
To further assist in your efforts in designing a commercial, industrial or high security fence using ASTM F1083 schedule 40 pipe, visit our website and click on the fence specifications and drawings link to view a Master Format 32 31 13 Chain Link Fence and Gate Specification. If you have any technical questions or need assistance updating your specs, please give us a call at 312-275-1608.
* 4" O.D. High Strength 50,000 psi yield is not available Call your customer service representative for more information
Tags: ASTMF1083, fence contractor, fence framework, Next Project, Spec ASTM F 1083 schedule 40 pipe