Back to The Wheatland Standard
Employee Highlight: Get to Know our Coatings Engineer
Have you ever wondered who is behind the production of your tubular products? Over the next few months, I will be highlighting team members of Wheatland Tube who happen to be some of the best in our industry. I recently interviewed Kim Westfall who is our Coatings Engineer at the Wheatland Tube facility in Chicago.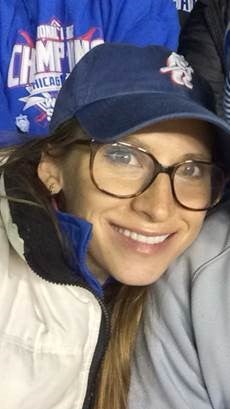 1. Tell us a little about your background and what led you to become a Coatings Engineer?
Growing up, my father and grandfather restored antique cars. It was always so fascinating seeing the old cars get taken apart, put back together and transformed into something new. I was drawn to engineering, and studied Materials Science Engineering at Purdue University. I hoped to be involved in formulations of important materials used in applications such as healthcare, automotive, or metals.
2. How long have you been with Wheatland Tube?
I've been working at Wheatland Tube for 2 years and have been able to put my metallurgical and coatings background to use preventing rust and degradation on our products' surface.
3.What are sings Engineer and can you describe what a tome of your responsibilities as a Coatypical day is like for you?
As a Coatings Engineer it's important to be a good detective and recognize potential and existing problems. On a daily basis I try to observe our process and physically touch and examine our products to see if there are any blatant problems that need to be corrected.
A big part of coatings is corrosion performance and a huge part of my job consists of examining samples of our products that have been tested in accelerated corrosion tests.
4. What methods do you use to ensure that no details are forgotten when monitoring corrective action on a project as it relates to quality?
My favorite way to monitor projects as it relates to quality is to go back to the data which is usually kept in an Excel spreadsheet. I love lists, so by creating data sheets full of facts and factors I'm able to examine if our process is in control and what if anything is effecting our quality. Making sure we're producing and delivering a quality product to our customers is our first priority.
5. Let's just put it out there, what has been your overall experience in a male dominated industry?
I can't say that it's always been easy. Many times I felt out of place and outnumbered. What has helped me in the past and to this day is that I've relied on sticking to my own standards and trying to be the best version of myself. Being opinionated or convincing has never been a strength of mine, but being a minority has definitely grown that skillset to some extent.
6. If you were giving someone advice on getting into this field what would you share?
I think when choosing the field of engineering and coatings specifically, you need to know that you want to be a problem solver. It's essential to decide what's important to you is it helping people, is it researching and learning new ways to efficiently do the job, is it working on a team? Once you've figured out what's important to you try to find a job that encompasses all these things together in one.
Tags: #WomeninManufacturing, #Construction, #CoatingsEngineers, #WomenEngineers