Back to The Wheatland Standard
One Day. One Goal. American Cancer Society's Walk & Roll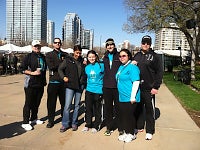 Celebrating its 43rd year, the American Cancer Society Walk & Roll event has a proud tradition of raising funds to fight cancer in a family-friendly atmosphere. Walk & Roll is a 5K walk, 10K skate and 15K bike ride that is followed by great entertainment and a picnic! It's a celebration of the fundraising efforts of teams and individuals who have contributed their time and fundraising expertise to support this cause throughout the year. On Saturday, April 26th, Team Wheatland partnered with Continental Electrical Construction Company, Inc. and other companies within the Chicago Electrical Industry to help support the American Cancer Society in their fight against cancer. Wheatland was well represented and we are proud to say that were able to raise over $6,000 dollars for the American Cancer Society.
Although Team Wheatland made it to the finish line, collectively our work is never finished until there is a cure for this disease. There is still time to donate to this cause, fundraising is open until the end of July just click on the following link to make a gift to support Team Wheatland. http://main.acsevents.org/site/TR?company_id=210579&fr_id=56228&pg=company
The American Cancer Society fights for every birthday threatened by cancer in every community. Money raised helps to support the following services:
$50 helps provide 5-rides to or from treatment
$100 helps guide 4-women facing breast cancer through every step of their journey
$250 helps a cancer patient and their caregivers 1-week of free lodging
$1,000 helps identify a cancer-causing gene in DNA, so that we may stop cancer in patients or prevent the cancer from occurring
A huge Thank You goes out to all of you that supported and participated in this event. We look forward to participating next year!