Back to The Wheatland Standard
Machinability Has A New Name: SureThread
Wheatland Tube is excited to announce the new brand name of its continuous weld (CW) pipe to SureThread. This name speaks to the excellent threading and fabrication characteristics of CW pipe. Many of our customers tell us that our CW pipe "threads like butter" and doesn't have all of those hard spots like imported ERW pipe," so SureThread just made sense. Wheatland Tube is North America's only full-line producer of A53 SureThread (CW) and Electric Resistance Weld (ERW) standard steel pipe.
Wheatland Tube's SureThread pipe's uniform grain pattern and smooth surface cause less wear and tear on tools and dies than ERW pipe. In a recent survey of contractors, 72% of respondents indicated they believe our SureThread continuous weld pipe to be easier on their tools. A new engineering study confirms their belief as fact: Threading tools use 22% less wattage while threading continuous weld pipe (compared to ERW pipe)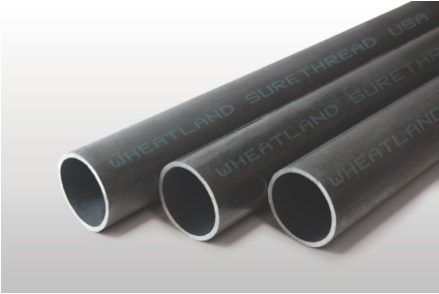 Not all pipe is the same, and it's important that when you specify SureThread pipe, by Wheatland, you can rest assure that you're getting better efficiency, better durability and better results.
Bending, cutting and threading made easier

Black, passivate, bare, pickled and oiled, and hot-dip galvanized finishes

Sizes: ¼" to 4"

Standard and Extra heavy

Produced to ASTM A53A 53M, federal specification WW-P404 and ASME B36.10M

NSF-61 compliant
When you want a pipe that offers all of these benefits and is Made in America, ask for it by name. Ask for Wheatland's SureThread pipe and look for the blue stencil.
We are the only producer of CW pipe in North America and likely, one of the only producers of CW pipe in the world. For more information about our SureThread product call 800.257.8182 or visit our website at wheatland.com.
Look for the Blue Stencil. Know better. Know Wheatland.