Back to The Wheatland Standard
Faster, Better, Stronger: The 7 Benefits of 20-Foot Conduit
Did you know you can save 50% on connections cost when using 20-foot conduit? It's true: 20-foot conduit reduces the number of connections and associated labor cost when installing, while performing up to the high manufacturing standards of 10-foot conduit. For long runs, jobs big and small, with volumes of all sizes, 20-foot conduit outperforms for faster and more cost-effective installs.
Learn all the advantages of running 20-foot conduit for your next job. Check out the following top seven benefits of 20-foot:
1) Reduce coupling time – Because 20-foot sections are double the length of 10-foot, you'll spend half the time you normally would connecting pieces. A team can connect a 100-foot run of 2-inch EMT in six minutes and forty seconds when using 20-foot sections. Conversely, it takes nine minutes and twenty four seconds to complete the same job when using 10' sections.
2) Save on connections – Use 50% less connections with 20-foot. Let's do the math: 50 10-foot conduit pieces require 48 couplings. When 20-foot is used, only 23 couplings are necessary.
3) Handle less material – 20-foot sections allow your team to complete jobs faster since only half the material needs to be handled.
Estimator Tom Underhill utilized 20-foot for exactly this reason when working on the Detroit Public Water and Sewer's Huber Warehouse. "Installers liked working with the 20-foot length in high elevation runs of approximately 700 feet each because it allowed them to move quicker and finish
faster – something made all the more important because the warehouse was in use with traffic underneath," said Underhill.
4) Optimal for long run applications – 20-foot conduit installs straighter with fewer pieces, making it ideal for use in warehouses, manufacturing facilities, healthcare, big box retail, energy infrastructure, mass transit, parking garages and more.
5) Install straighter – With fewer pieces, it's easier to produce remarkably straight runs. As an added bonus, the straight runs achieved with 20-foot provide more stability since fewer couplings are needed.
6) Easier to handle – 20-foot conduit is easier to handle than you think. Why carry multiple 10-foot pieces when you can carry a single 20-foot section? Machine operations benefit as well because the
number of times a scissor lift needs to lower to pick up product is significantly reduced.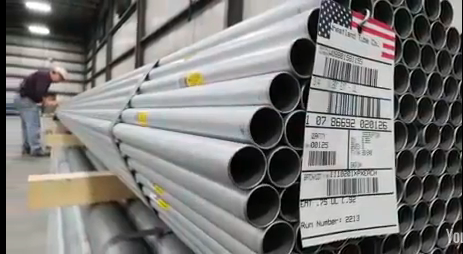 7) Green and sustainable – 20-foot conduit contains recycled steel and provides decades of reliable service. Conductors are easily removed and inserted. Additional circuits may be added in the same conduit, as permitted by the code. At the end of the conduit's life, the steel may be almost fully recycled.
We know these seven benefits to be true because, well, we did the research. We tested it out: In straight run applications, 20-foot conduit installed in up to 30 percent less time with 50 percent fewer couplings. Also, your electricians don't have to change the way they work. 20-foot sections of EMT and Rigid Metal conduit are easy to work with in the field and are your pathway to more jobs, faster installs and a more professional finish.
To see a live race of 20-foot conduit versus 10-foot conduit, watch two crews install a 100-foot run here.