Back to The Wheatland Standard
Employee Spotlight: Wheatland's Women in Manufacturing
In our latest blog post, we talked about manufacturing's greatest, most underutilized asset, which of course, are women. And that got us thinking about the Wheatland women. During a time when women in manufacturing has become such a hot topic, we are doing what we can to grow the workforce and put people back to work.
Although we can't say enough about the men working in our facilities, we wanted to take the time to highlight a few of the many women working at our facilities.
In celebrating our women, we sat down with three outstanding employees and discussed a variety of topics, including why they think there is such a significant gap in the number of women who work in manufacturing and how we can get more young girls and women interested in manufacturing.
The Interview
Meet Lisa Beers, Christine Walczak and Sue Preston: three women who have collectively contributed more than 50 years of service to Wheatland Tube. Let's get to know these women and their thoughts about the state of manufacturing and the future of women in the industry.
Q: How long have you worked in manufacturing?
Lisa: I have worked in manufacturing for 15 years.
Christine: I have worked in manufacturing throughout my 25-year career.
Sue: I have worked in manufacturing and JMC Steel during my entire 27-year career in manufacturing.
Q: What is your current role at Wheatland Tube?
Lisa: I am the Supervisor of Technical Services – the TS16949 Management Representative.
Christine: I am the Quality Manager at the Chicago Wheatland Facility.
Sue: I work in the Quality Department as the ISO Coordinator.
Q: Have you worked in other manufacturing roles in the past? If so, what were they?
Lisa: I have also held roles in Information Systems.
Christine: I started my career at a small coatings manufacturer in Chicago. I worked there for 11 years while pursuing my Bachelor's degree part-time before coming to Wheatland.
Sue: I started off – after graduating from Penn State Behrend College with BS in Communications – as an hourly production employee at Council Avenue. After two years, I was promoted to Foremen in the coil receiving area and one year later, I was promoted to a Quality Assurance Foremen on the CW Mill. When management decided to implement an ISO Quality Program, I was asked to lead the efforts of this program and have been working in this capacity ever since. I was also able to further my education and I now have my Master's Degree in HR Management and Industrial Relations.
Q: Why do you think there is such a significant gap in the number of women who work in manufacturing?
Lisa: Manufacturing is still perceived as a male-only industry and women would not be welcome or deemed capable of doing the work. When people think of manufacturing jobs, they think of running machines on the floor, not the support departments. Although women are perfectly capable of performing the floor jobs – and some thrive at it –there are many other areas in manufacturing. When people think of manufacturing careers, they don't think of careers in quality, environmental, safety, production planning, purchasing, accounting, sales, IT etc., but there are plenty of those jobs available for women, too.
Christine: I believe culture is the reason there aren't many women in manufacturing. There aren't too many young girls helping their dads out in the garage while he fixes his car.
Sue: Tradition. In the past manufacturing was, and still is, a male dominated field. These days, young females are looking for glamorous jobs, they aren't looking to strap on a pair of steel toes work boots and a hard hat. Until that perception changes, the gap will remain as it is.
Q: How can we or should we get young women and girls interested and excited about a career in manufacturing?
Lisa: We need to show the diversity of opportunities in manufacturing, and show that women are capable of performing all of the jobs. And most importantly, that they will be treated equally.
Christine: I believe young women aren't taught at an early age that manufacturing is even option for their career path. If there were more career days in the high schools where women from manufacturing companies could go talk to the students, young girls would be able to talk to these women and learn more about their job in person. The public schools used to have a program where you would work a few hours a week and earn credits – sort of like an internship program.
I was fortunate to have my education paid for by my employer. I was working as the receptionist before the owner of the company offered to pay for my school and work in the lab. That, is one of the main reasons I decided to pursue a career in manufacturing.
Sue: The best way is to have young women and girls come to the facilities and see what we are all about. Go to the manufacturing site and see what opportunities are out there. Hands-on experience is the best; they can ask questions and we can explain why a degree in Chemistry is important to work in the Lab or to work with the paint and coatings that are applied to our pipe. Internship opportunities are also a great way to educate young women, which can lead to a full-time position.
Q: What is your favorite part about working in manufacturing?
Lisa: There is a wide variety of opportunities available, if you are interested and willing to move into other areas.
Christine: My favorite part about working in manufacturing is seeing a product go from start to finish. I enjoy being involved in all stages of the process; creating a finished product from raw material.
Sue: My history with Wheatland Tube covers many centuries. In fact, my father was a production worker here at Council for 43 years, my mother worked in the Pipe Shipping office here at Council for 45 years, and now, I have been here for 27 years.
With the longevity and family history, I take pride in what I do and feel an "ownership" connection. When I look back at the years my parents and I have worked here, it's amazing to see how much the company has grown. In spite of that growth, we made friends that are still friends of my family today.
It's important to keep the "American Steel Mill Spirit" alive. My grandparents migrated here and worked in the steel mills in Pittsburgh, Pennsylvania and Farrell, Pennsylvania. It makes me proud that I'm able to keep that spirit going.
While it's clear that each of these women have great passion for their career and manufacturing, it's no secret that they believe a lot will have to be done to help change society's perception of manufacturing. This is especially true if we want to get more young girls and women interested in manufacturing as a career. A change that won't happen overnight, we have to start educating young women today about how impactful working in manufacturing can be.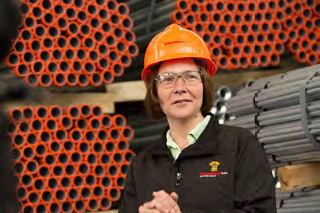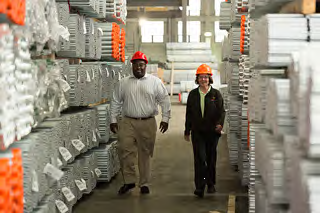 How can we help increase awareness about women in manufacturing?
With the revitalization of manufacturing, there has also been an influx in the number of jobs, which of course, has helped turn our economy around. And it doesn't look like this trend is quitting any time soon. Manufacturing isn't something that will be here one day and gone the next. There is always going to be a demand for people in the manufacturing sector. Even as technology becomes more advanced and computers continue to replace some positions, technology will never completely replace humans.
As the growth within manufacturing continues, the demand for workers will increase. And we are facing a worker shortage. Unfortunately, this demand for applicants is only going to escalate as current manufacturing workers reach retirement.
So what can we do? As an industry, we have to do something.
Within our organization, our human resources department has already begun to see a shift in the number of women applying to manufacturing positions. According to Corporate Recruiter, Kirstin Nielsen, there have been more female applicants than ever before, and in turn, we are hiring more women into production roles.
While interest is slowly growing, Kirstin believes that many of the women applying are those who have influences within the manufacturing industry. Whether they have family or friends who work in manufacturing, it's obvious to Kirstin that we – as an industry – need to promote women working in manufacturing more aggressively.
Ideally, programs that educate and provide hands-on training are the best ways to increase interest, while providing women (and men) with the exposure and experience needed to work in a manufacturing facility. Although we have been working with Daley Colleges here in Chicago, there is always room for expansion. The more universities, trade schools and other educational programs we can reach, the more people we can educate about the various opportunities within manufacturing. By working with these types of programs we will help create awareness about different jobs available, while erasing preconceived notions about the industry.
In addition to educational programs, we know that word-of-mouth is one of the most effective means of notifying people about opportunities and job openings. In this light, we need to have more women in manufacturing talking about working in manufacturing – especially to young women and girls. First-hand experiences and accounts are powerful and we believe young women will listen to other women and seriously consider manufacturing as a career path.
It's clear that we have a long way to go with encouraging women to enter the manufacturing industry, but we aren't worried. It's obvious that the women who do work within the sector dismiss the cultural misconceptions and traditional thinking. Now we need to relay and reinforce that message to the rest of America.
Interested in a career at Wheatland or JMC Steel Group? Visit our careers page to learn more about our open positions.
Tags: Manufacturing, manufacturing jobs, women in manufacturing