Back to The Wheatland Standard
Who Said Aesthetics and Surface Conditions Aren't Important?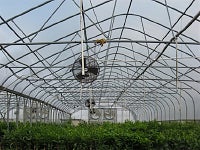 Summer is around the corner and the construction season is getting off to a slow, but steady start. Wheatland Tube wants to assure you when you specify our galvanized mechanical tubular products that you are taking the first step in making sure that your projects are protected against corrosion and white rust. When you specify Wheatland's ThunderCoat™ or SURcoat mechanical tubing you get a product that can withstand the elements on its own.
Pre-galvanized products do not provide the "complete" protection of the SURcoat process. On the inside of a SURcoat tube, a corrosion resistant zinc rich coating is applied after the tube is welded, providing 100% corrosion protection on the interior including the weld seam. This becomes a tough baked-on coating during the in-line galvanizing process offering a combination of barrier and galvanic protection to the ID of the tube. Wheatland's SURcoat process provides all tubular products with a smooth, shiny, clean appearance that will not flake or chip during fabrication. The synergistic triple coating impedes oxidation (graying down) and flaking common to many pre-galvanized products. Our "triple coat" or "triple threat" as we tend to call it also works to combat white rust formation on the surface of the zinc coating that may be seen on some pre-galvanized products.
When you are looking for a coating that can withstand the rigors of your fabrication process look no further than our ThunderCoat coating to be your option. A heavier zinc coating is applied in-line to prepare the tube for outdoor applications or any highly corrosive environments. Twice the level of 99.99% pure zinc compared to our SURcoat product, ThunderCoat is ideal for outdoor applications. Our in-line galvanizing process gives you the benefit of the galvanic protection of a durable zinc layer and then makes it even better with the application of a conversion coating to stop white rust, and a top coat to seal the surface from the elements. While our nearly pure zinc coating is protecting the bare steel beneath it, our top coats are protecting the zinc as well. The weld is completely covered in our process, unlike pre-gal products that must try to repair the weld surface after forming.
The synergistic effects of this coating system are well established in which the whole is greater than the sum of its parts. Our highly controlled, uniform OD coating provides protection that can still be easily fabricated, welded, or powder coated while maintaining superior corrosion protection.
Both our SURcoat and ThunderCoat coatings from Wheatland Tube helps to minimize cost associated with superior corrosion protection. We deliver product to you that's ready to use without additional cost or lead times, providing you with the quality of products that you expect and deserve.
KNOW BETTER. KNOW WHEATLAND.