Back to The Wheatland Standard
Wheatland Tube has Solutions to your Tube Welding Problems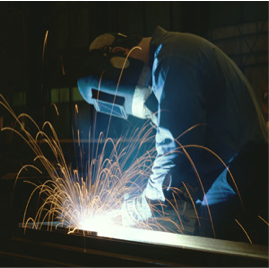 Happy New Year! It may be the dead of winter but construction season is around the corner for Wheatland and our customers. This month Wheatland would like to focus on welding processes, guidelines and safety practices. Wheatland's mechanical tubing provides excellent structural integrity making it easy to fabricate, powder coat and weld so you save on fabrication, installation and labor costs. The precision, toughness and long-lasting protection of galvanized mechanical tubing make it ideal for projects that demand superior surface finishes and precise dimensions. Users of our in-line galvanized products are much more competitive in their respective market places.
Are you reluctant to weld galvanized tubing? Are you spending too much time and effort welding uncoated products, only to have them later hot-dipped galvanized? Are you seeing your products, warp, twist or crack after hot-dip galvanizing, well look no further Wheatland creates tube that is easy for you to weld in the factory and easier for you on the job site. It's really simple, the 99.99% zinc, highly uniform coating can give you a faster more dependable weld, typically without needing to remove the coating. In-line galvanized mechanical tube creates a tough, easy-to-handle product with superior corrosion resistance and should be your preferred choice for OEM applications.
Learn more about our welding designs, welding processes and safety practices by downloading our Welding Guidelines on our website http://www.wheatland.com/mechanical-tube. Also, download our Fact Sheet about welding we may have a solution to some of your reoccurring problems.
For more information about our mechanical tube products, contact your local Sales Representative at 800-733-5608.
KNOW BETTER. KNOW WHEATLAND.