Back to The Wheatland Standard
[INFOGRAPHIC] Contractors Favor American-made Steel Pipe
American-made products are a hot button when people are out of work, when the economy is sluggish, during election season and so on. The perception, and reality, is that domestic companies do more for the U.S. economy and American jobs than foreign companies. While fair competition is what this country was founded on, the upheaval of imports and decrease in exports have greatly impacted domestic manufacturers like Wheatland Tube. We've even gone to Congress to testify against unfairly priced foreign steel and have been successful. The recent resurgence of Made in the USA has become critical to Wheatland's job creation and new business expansion as dumped imports present a real threat to U.S. manufacturing.
As part of a larger, corporate initiative to identify the unique characteristics and behavioral drivers of mechanical contractors, Wheatland conducted an American-made products survey; open to participants May 1 – July 31, 2013. The study was conducted in response to what Wheatland Tube is already observing through in-depth field interviews, particularly an increase in calls from contractors looking for domestic product to support ARRA and Buy America projects. Survey participants were incentivized to take the survey by an opportunity to win an iPad® and 95 percent of participants completed the survey in a blind manner (i.e. they were unaware that Wheatland sponsored the survey).
Our latest infographic highlights the results of the survey and provides additional evidence supporting the increased demand for domestic products.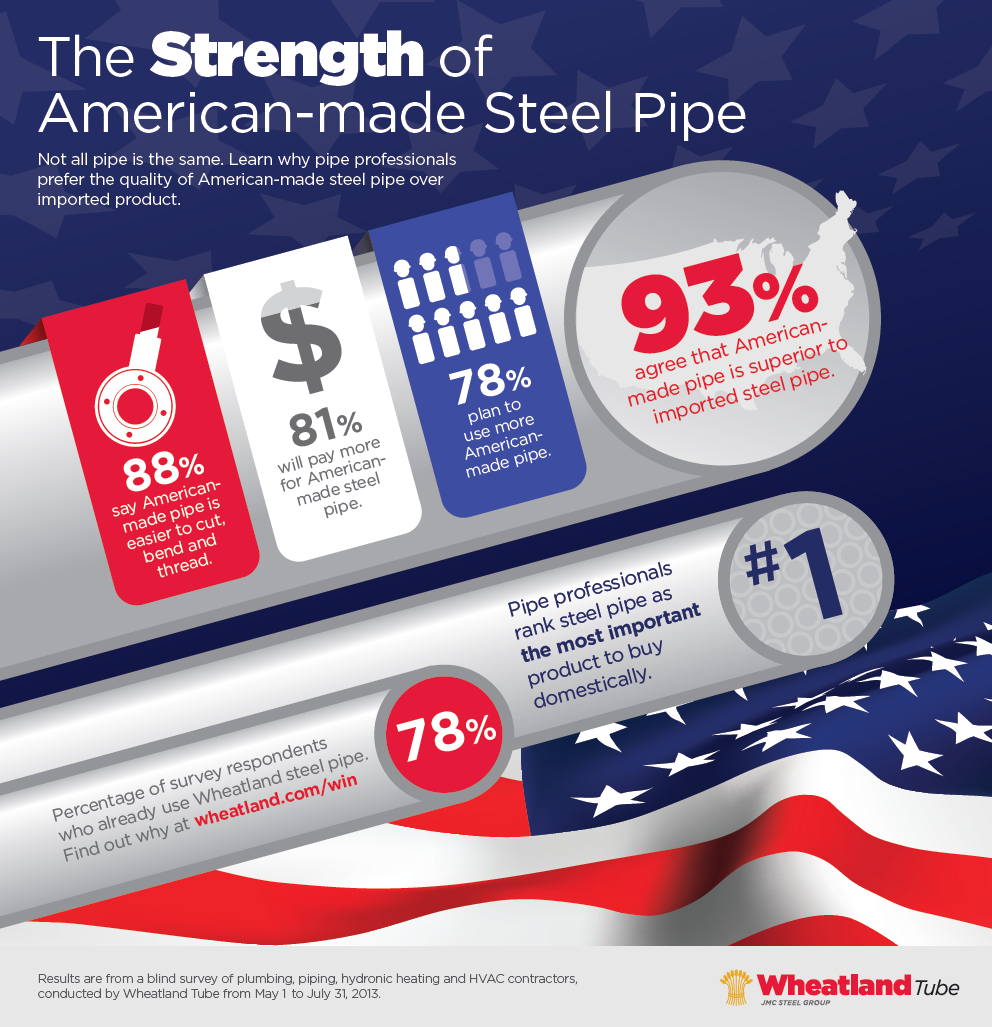 Share this infographic on LinkedIn.
Share this infographic on Twitter.
Of those surveyed, including plumbing, piping, hydronic heating and HVAC contractors, respondents indicated a strong preference for American-made products. The data show that there is a perceived and real (based on actual product usage) quality difference between American made and import steel pipe. Our survey indicates that contractors acknowledge this and support American made products where they can by buying domestic products for their projects, or have intent to buy domestic products for future projects.
For more information about the "Buy America — Recovery Act" provision, Section 1605 in Division A, and the interim rule amending the Federal Acquisition Regulation (FAR), please go to www.gpoaccess.gov/fr/.
How important is it to you to use American-made products? Do you feel there is a real difference between American-made and imported pipe?