Back to The Wheatland Standard
Top Five Reasons Solar Manufacturers Switch to Steel
Patriot Solar, a racking manufacturer, made the switch from aluminum to steel to become a more practical, sound design choice for customers. With over eight million steel structures worldwide, they have established functionality, durability, availability, capacity and cost effectiveness as motivators behind their switch to steel.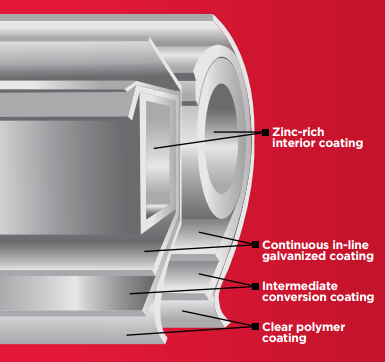 In a recent webinar, hosted by Solar Power World, Patriot Solar provides solar manufacturers a strong insight into the benefits of switching from aluminum to steel.
Functionality
You have to be able to adapt to your customers' requirements and be able to fulfill their needs to bring a solar project to reality. Steel is able to adjust to these specific requirements allowing racking manufacturers to change on-the-go and meet customers' needs. The flexible material offers multiple post options, various sizes gauges, thickness and lengths and easier installation processes.
Durability
While properly alloyed aluminum can equal the yield and strength of steel, steel possesses approximately three times the modulus of elasticity (E) of aluminum. Thus, under load, identically-sized steel members deflect only a third as much as aluminum. For certain applications, this stiffness is important.

When multiple parties and companies are committing to a 25-year power purchase agreement (PPA), it is important to be confident that the structure will hold and withstand throughout that 25-year PPA period. In fact, steel has been used in applications that are well over 50 years old and still standing.
Availability
Racking manufactures need to work with suppliers who have the product volume and location availability to meet their needs. According to the U.S. Geological Survey, in 2012, U.S. steel production was 91 million tons, while U.S. aluminum production was 2 million tons. Furthermore, about 48 companies produce raw steel at about 108 minimills. Five companies operate about 10 primary aluminum smelters, four of which were temporarily closed in 2012.

Capacity
Anyone in the business knows that solar projects never begin on their scheduled time. The solar construction industry is a hurry-up-and-wait scenario. Steel's production capabilities result in high volume of materials that meet the strict deadlines and project needs for customers.

Wheatland Tube products are rolled in the shortest cycle times, every three to four weeks, resulting in reduced lead times. As the largest independent pipe and tube manufacturer, Wheatland Tube has the capacity to meet large requirements or produce standard sizes in multiple facilities, so they can deliver the pipe and tube solutions you need as soon as you need them.
Cost
Compared to steel, aluminum requires larger or more members to support to same load. With steel tubing, you can reduce the amount of parts required in your design, which affects your labor and installation time, and ultimately saves you money.
"When we switched to galvanized steel rails for our racking solutions, we were able to span a further gap due to the strength of the steel," said Sam Jaquette, "which brought a lower price per watt over racking, that we passed on to our end customer."
Making the switch to steel also provides additional value such as integrated wire management, a singular set of hardware to connect rails to truss and environmental benefits, such as recyclability.
Learn more about making the switch and watch the full webinar here: http://www.solarpowerworldonline.com/webinars/